About
Todd
Doug
Repertoire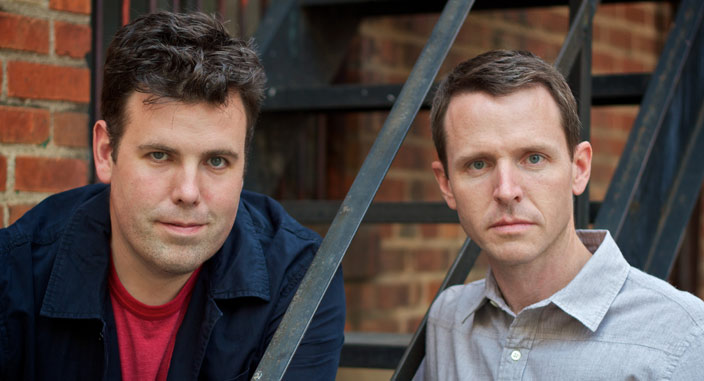 Download full press kit (54MB ZIP)
Download one-sheet PDF (6.1MB)
Download hi-res press photo (7.4MB)
Download hi-res performance photo (11.4MB)
Download bios: .docx or .pdf
Since its founding in 2006, the Meehan/ Perkins Duo (Todd Meehan and Doug Perkins) has redefined the American percussion duo through its diverse commissions and engaging performances. The Duo has been called "superb young players" by the New Yorker and "gifted percussionists" by the Wall Street Journal. Dedicated to creating a new body of work for the percussion duo genre, to date the Duo has collaborated with composers David Lang, Paul Lansky, Nathan Davis, John Supko, and Matt McBane to expand the repertoire and produce eclectic new acoustic and electro-acoustic works for percussion. The Duo has shared this music with audiences throughout the country, including performances at Weill Recital Hall, the Ojai Music Festival, Monadnock Music, the Yellow Barn Festival, the International Festival-Institute at Round Top, the Stone, the Percussive Arts Society International Convention, and abroad in St. Petersburg and Petrozavodsk, Russia.
February 2011 marked the release of the Duo's first recording on New World Records entitled "Restless, Endless, Tactless – Johanna Beyer and the Birth of American Percussion Music". The recording, a joint project with the Baylor Percussion Group, chronicles a largely unknown body of early percussion works from the 1930's written by Johanna Beyer, Henry Cowell, Harold Davidson, Ray Green, John J. Becker, and Doris Humphrey. The release was praised as "immaculately played by the duo" by the BBC Music Magazine and "an engaging experience" by Gramophone. Fanfare Magazine perhaps best sums up the recording by stating "This is a must-hear for anyone remotely interested in the development of music in the past century and is strongly recommended."
The Duo is currently undertaking its largest commissioning project to date, engaging composer Jonathan Leshnoff for a Concerto for Two Percussionists and Orchestra. The work will be premiered June 2012 with the Texas Festival Orchestra at the Round Top International Festival under the baton of Michael Stern. Subsequent performances will take place during the 2012-2013 season with the Duluth-Superior Symphony Orchestra, the River Oaks Chamber Orchestra, and the Baylor Symphony Orchestra.
The Meehan/ Perkins Duo uses Vic Firth sticks and mallets, Pearl/Adams drums and keyboards, Black Swamp Percussion accessories, Remo drumheads, and Zildjian cymbals. They are represented worldwide by Ariel Artists.
Duo Repertoire
Courtney Brown

Losing Love in Magnetic Time

marimba, vibraphone, and electronics

Nathan Davis

Diving Bell

multiple amplified triangles

Suzanne Farrin

only was night

two vibraphones and crotales

Suzanne Farrin

this mind made war

two vibraphones

Mauricio Kagel

Rrrrrr…..

theater percussion

David Lang

Table of Contents

bells, shakers, woodblocks

Paul Lansky

Travel Diary

marimba, vibraphone, crotales, glockenspiel, found items

Matt McBane

Binary

marimba, vibraphone, drumsets

Andy Pape

CaDance

multiple percussion set-ups

Steve Reich

Clapping Music

clapping hands

Steve Reich

Nagoya Marimbas

two marimbas

Steve Reich

Stuart Saunders Smith

When Music is Missing, Music Sings

assorted, found items

John Supko

Straits

marimba, vibraphone, flowerpots, drums, toys, almglocken

John Fitz Rogers

Once Removed

two marimbas
Solo Repertoire
Nathan Davis

Simple Songs of Birth and Return

mbira and live processing

Michael Gordon

David Lang

String of Pearls

two marimba

David Lang

Unchained Melody

multiple percussion

Michio Kitazume

Side by Side

multiple percussion

Lukas Ligeti

Tokuhide Niimi

Alejandro Viñao

Iannis Xenakis

Rebonds

multiple percussion
Todd Meehan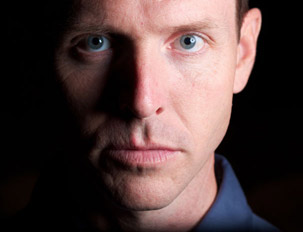 Todd Meehan currently serves as Assistant Professor of Percussion at the Baylor University School of Music. He joined the faculty in 2003 and was recently honored with the 2010-2011 Outstanding Faculty Award in Teaching. Todd is an active solo, orchestral, and chamber musician and has performed throughout the United States, Europe, and Asia. From 1999 to 2003 he served as a founding member of So Percussion and in 2006 he co-founded the Meehan/ Perkins Duo with percussionist Doug Perkins.
His solo and chamber music endeavors are focused on the creation and performance of new music. In this capacity he has commissioned works from David Lang, Paul Lansky, Charles Wourinen, Alejandro Viñao, John Supko, and Matt McBane, among others, and has premiered numerous works for solo and chamber percussion. He has recorded on Bridge Records, New World Records, and Cantaloupe Music. Additionally, Todd performs each season as Principal Timpanist of the Waco Symphony Orchestra, a position he has held since 2004.
Todd has appeared at Weill Recital Hall, the Bang on a Can Marathon, the Brooklyn Academy of Music, Miller Theater, the Norfolk Chamber Music Festival, the International Festival-Institute at Round Top, and at multiple Percussive Arts Society International Conventions. He has given masterclasses at universities and conservatories throughout the country and abroad.
Todd received his Bachelor of Music and Doctor of Musical Arts degrees from the University of Texas at Austin and his Master of Music degree from Yale University. His principal teachers include Robert van Sice, George Frock, and James Ross.
He performs with Vic Firth sticks and mallets, Pearl/Adams drums and keyboards, Black Swamp Percussion accessories, Remo drumheads, and Zildjian cymbals.
Douglas Perkins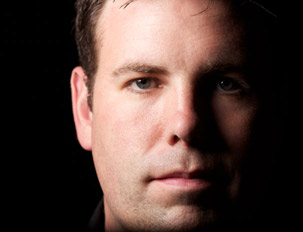 Doug Perkins specializes in new works for percussion as a chamber musician and soloist. His performances have been described as "terrific, wide-awake and strikingly entertaining" by the Boston Globe and "brilliant" by the New York Times. He has appeared at Carnegie Hall, Lincoln Center, the Brooklyn Academy of Music, the Spoleto USA Festival, the Ojai Festival and the World Expo in Lisbon, Portugal. He was a founder of So Percussion and is presently hard at work with the Meehan/ Perkins Duo.
Commissioning and collaborating to create new works is important to Doug. He works regularly with such composers as David Lang, Steve Reich, Paul Lansky, John Luther Adams, Nathan Davis, Larry Polansky, and Joseph Schwantner. He also performs regularly with groups such as the International Contemporary Ensemble, Signal, Alarm Will Sound, Camerata Pacifica, Collage New Music, eighth blackbird, Max Roach's M' Boom, and the electronica duo Matmos.
Lately, Doug has been organizing large-scale percussion events that encourage a sense of community and new ways of experiencing live music. To that end, he staged a performance of Iannis Xenakis' Persephassa in and around Central Park Lake with the audience in rowboats surrounded by percussionists on floating stages and on the shore. He also organized a 99-player version of John Luther Adams' Inuksuit at the Round Top Festival featuring performers from throughout TX and the US. He organized subsequent Inuksuit performances in NYC at the Park Avenue Armory in February 2011 and at Morningside Park in June 2011 as part of the Make Music New York Festival.
Doug currently teaches at Dartmouth College where he teaches percussion and directs the Contemporary Music Lab and the concert series The Way to Go Out. Additionally, he is the Director of the Chosen Vale International Percussion Seminar at the Center for Advanced Musical Studies.
Doug received his Bachelor's degree from the Cincinnati College-Conservatory of Music, Masters and Artist Diploma degrees from Yale University, and his Doctorate from Stony Brook University. His principal percussion teachers were Jack DiIanni, Jim Culley, and Robert Van Sice.
He performs with Vic Firth sticks and mallets, Pearl/Adams drums and keyboards, Black Swamp Percussion accessories, Remo drumheads, and Zildjian cymbals.