Discography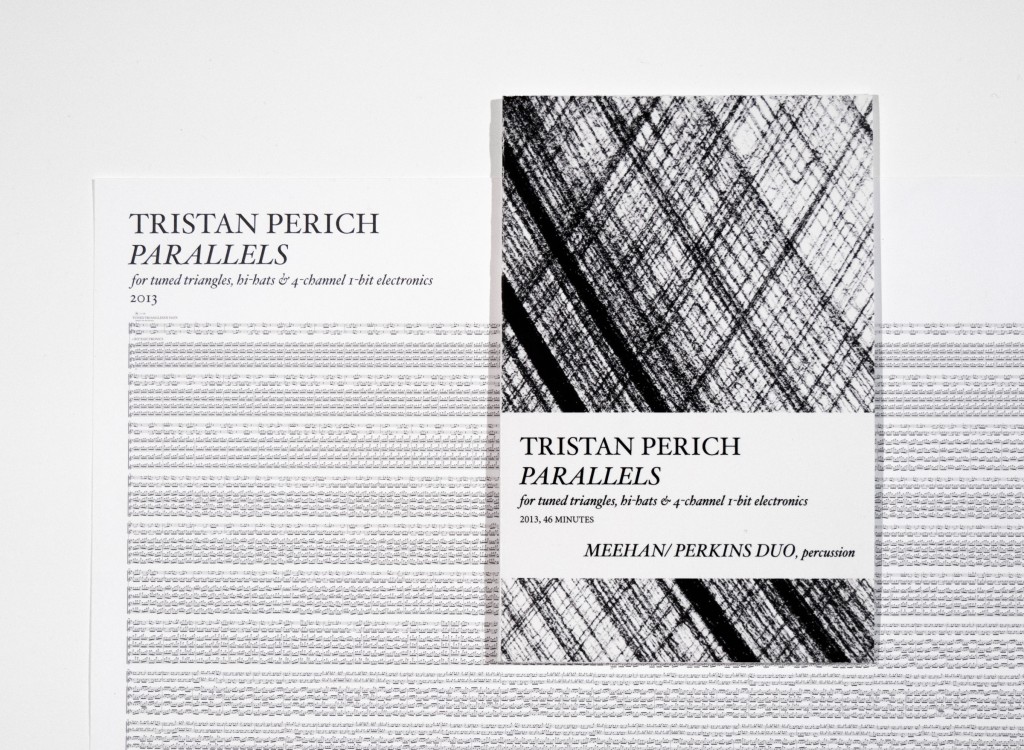 Parallels – Meehan/Perkins Duo
Physical Editions – PE005
Tristan Perich's Parallels, a massive 50-minute work for tuned triangles, hi-hats, and 1-bit electronics, comes to life on this March 2015 Physical Editions release. The work explores the nature of pitched and unpitched percussive sounds combined with pure 1-bit tones from Perich's custom-designed electronics. Commissioned by the Meehan/ Perkins Duo through a Chamber Music American Classical Commissioning grant, the piece draws on Perich's exploration of the audio frequency spectrum in his Microtonal Wall, a sound installation with 1,500 microtonally tuned speakers.
Purchase from Physical Editions, iTunes, or Amazon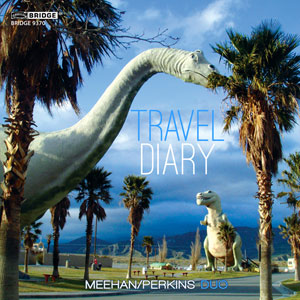 Travel Diary – Meehan/Perkins Duo
Bridge Records – BRIDGE 9370
Coming on the heels of their critically acclaimed debut album, the Duo's newest release features commissioned works by Paul Lansky and David Lang as well as electro-acoustic works by our good friends Nathan Davis and Tristan Perich. This recording represents the Duo's on-going efforts to commission and collaborate with an eclectic mix of contemporary composers to create a new and unique body of percussion duo repertoire.
Purchase from Amazon, iTunes, or Bridge Records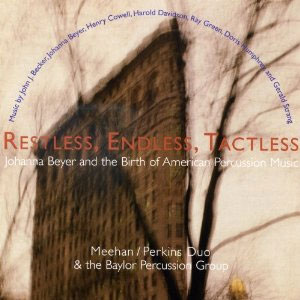 Restless, Endless, Tactless – Johanna Beyer and the Birth of American Percussion Music – Meehan/ Perkins Duo and the Baylor Percussion Group
New World Records – 80711
Awarded five out of five stars by BBC Music Magazine, this disc features a collection of largely unknown percussion works from the 1930's. The recording highlights some of the earliest works written for percussion, including pieces by Henry Cowell, Gerald Strang, Harold Davidson, Ray Green, and Doris Humphrey, as well as the complete percussion output of Johanna Beyer. Fanfare Magazine sums up the experience by stating "This is a must-hear for anyone remotely interested in the development of music in the past century and is strongly recommended."
Purchase from Amazon, iTunes, or New World Records